◑ PC Environment
| | |
| --- | --- |
| Item | Basic Requirements |
| CPU | Pentium 166MHz or above |
| Memory | 64MB or above |
| O S | Windows XP, Vista |


◑ Function
Unicall/Center has the following functions to improve the business efficiency, and it is very easy and convenient to use.
① Caller display: Caller ID phone function and displays the caller's information and phone number.
② Display All: Displays the core information of the customer with calling sequence number for for all the telephone lines.
③ Call list: Displays the call list in the order of recent time and the status of the calls including the absent calls.
④ Connection management: Stores and manages the personal information in the database based on the name card function.
⑤ Group management: Stores and manages the member information as group in the database.
⑥ Customer management: Stores and manages the customer information(company etc.) in the database.
⑦ Key number: Manages the key number for each customer.
⑧ Memo/Diary: For user's reference to each customer, displays the memo on the customer information screen, calling screen, etc. and displays the diary on the customer information screen.
⑨ E-mail sending: Sends e-mail to the customer.
⑩ SMS sending: Sends SMS by PC.
⑪ Status display: Displays the call status, the system status, and the count of the absent calls.

◑ Main Display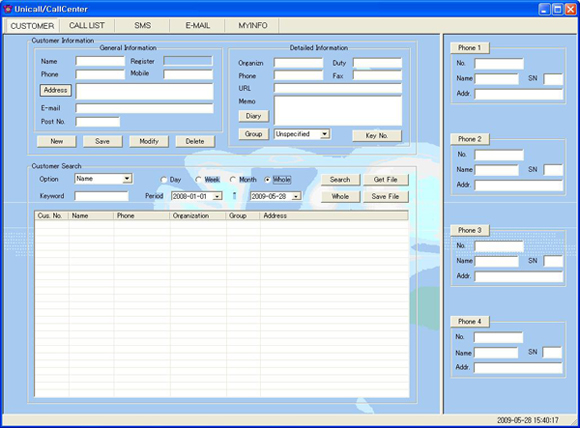 ◑ Application Example
Unicall/Center is a call/customer/contact center product based on CID. The followings are examples that Unicall/Center can be used appropriately in consideration of its functions.
- A customer center
- A contact center
- A call center



◑ Product Model
Model

Product Composition

Unicall/Center

• Program CD: 1
• CID Divice: 1
• RJ11 6P2C Phone line: 1
• USB cable A-B: 1

• User's Manual: 1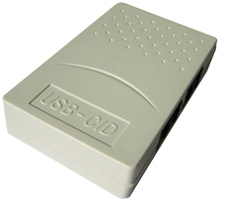 < CID Device>

◑ Performance & Environment

- Applicable up to four trunk lines.
- Can use CRM PCs as many as you want.
- CID device is not needed in your key phone, PBX, etc.
- Any PCs through internet environment.
- CID information from telephony office must be needed.
- Voice Record: Possible to use with the voice recording product.


◑ Manual Downloading
- If you want to know about Unicall/Center in detail, please download the electronic manual.
- The electronic manual is available to read as Acrobat Reader.